Ryan was born exactly 3 weeks early on July 1, 2005. It was a "normal" delivery with no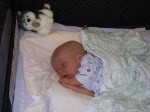 complications. Ryan appeared to be a perfectly healthy 6lb. 15oz. baby boy. However, early the next morning, Ryan was transferred to the NICU because he was slightly jaundiced. We didn't really know what that meant, but we knew the Neonatal Intensive Care Unit (NICU) was for really sick babies. We went to the NICU to see Ryan and we were told that this was not out of the ordinary and that after he received phototherapy for a couple of days, he would be fine. As a standard procedure, they also ran some routine blood work. When the results of the blood work came back, it showed that Ryan's calcium level was extremely low so the doctor said he was going to give Ryan some calcium and that everything would be fine. After a few days, Ryan's jaundice had resolved, but the calcium level continued to be extremely low even after he would get an injection of calcium. This confused the doctors and after 10 days in the NICU we had him transferred to Albany Medical Center's NICU.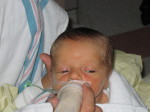 Ryan's low calcium levels baffled the doctors at Albany Medical Center as well. During this time in the NICU, Ryan also was not a very good eater and cried most of the time that he was awake. Soon different specialists in the hospital became involved with Ryan's case. After almost 2 weeks in this NICU and after many x-rays, blood transfusions, and calcium bolus', the doctor's worst case scenario was finally the diagnosis that was given to Ryan. We were told by a Hematologist that Ryan had a rare genetic bone disease called Malignant Infantile Osteopetrosis (MIOP). They showed us x-rays from when Ryan was in the first NICU and compared them to x-rays that they had just taken and it was very obvious, even to an untrained eye, that Ryan's bones were extremely dense and were beginning to close off. We later found out that Ryan suffered from a fracture in his arm because of how dense his bones were.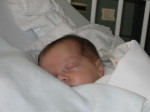 The doctors explained to us that maybe 20 children worldwide were born with MIOP each year and that the only cure for this disease was a bone marrow transplant. Since none of our immediate family were a complete match, the doctor's turned to the National Bone Marrow Registry. This proved to be a success. Many matches were found for Ryan and in late August 2005, we were transferred to Boston Children's Hospital for Ryan to undergo a bone marrow transplant from an unrelated donor from Germany.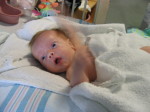 Ryan had a bone marrow transplant when he was 2 months old. It was a tough battle for him from the beginning. Ryan had 10 days of chemotherapy to wipe out his immune system. He soon had signs of mucositis, (this causes transplant patients to have a difficult time breathing) which is not atypical for transplant patients. A couple of days after his bone marrow transplant, Ryan was having such a difficult time breathing that he was transferred to the ICU. He was put into a sleep induced coma for 30 days. During this time Ryan was cared for by many well-trained doctors and nurses. We were told several times that he was not going to make it out of the ICU. Much to everyone's surprise, Ryan began making a turn for the better and did make it out of the ICU. He was known as the "miracle baby" throughout the hospital. Ryan returned to the transplant floor and made a slow recovery.
Ryan continued to baffle all who came in contact with him. Unfortunately, Ryan's counts were not coming up so we did not know if the bone marrow transplant was successful. We could tell something was different with Ryan though. He no longer cried all day long. He was beginning to coo and make baby sounds. Finally, after more than 80 days post transplant, Ryan's counts started to show signs of engraftment and he was finally discharged from the hospital a week before Christmas. We got the best Christmas present when we were sent home to NY on Christmas Eve.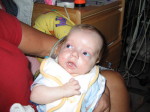 In the month that we were home, Ryan went to the hospital two times due to infections from having no immune system. Ryan passed away on January 23, 2006, just 9 days before he turned 7 months old. He fought as hard as he could each and every day of his life. Unfortunately, the cure for MIOP is often as fatal as the disease itself.
Ryan was kept in isolation for his whole life to keep him safe from germs. He loved to listen to music and have us cuddle and dance with him. He also loved to sing with his Daddy. He did not meet many people in his short life, but he certainly left his legacy here on Earth.